July
2023
31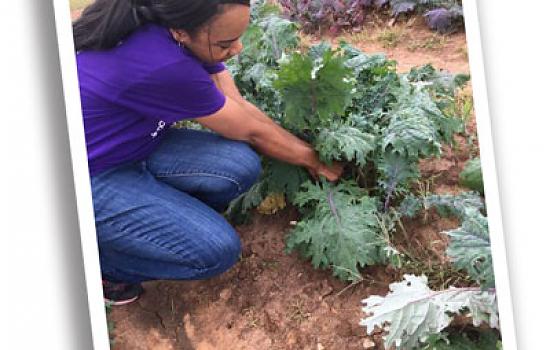 July Farm Highlights
If you visited the Village Farm in July, you probably saw our Farm Educators hard at work harvesting crops to sell out our weekly farmers market and preparing the soil for another round of planting. If you haven't visited, what are you waiting for? Here are some July highlights.
Farmers Market Reminder
Just a reminder that the farmers market has switched to summer hours. It will be open from 9 a.m. to noon from now through the end of September. Don't forget your reusable shopping bags.
We Love Loofah
Did you know you can grow loofah sponges? Our farmers know and they did. Luffa also called "loofah" is a member of the cucumber family. They love the heat and can even be eaten when young. Our Farm Educators plan to let them grow to maturity, then dry out, forming a fibrous "skeleton" which can be used to make the natural sponge. Sponges can be used for exfoliating the skin in the shower, to wash your dishes, sinks, countertops and tubs. Once they are used up, you can throw them in your compost bin or garden. Talk about eco-friendly!
We're On the Menu
If you recently enjoyed a meal at Tiny Champions or Nancy's Hustle in Houston, the organic vegetables on your plate mostly came from the Village Farm. Many local restaurants purchase our fresh produce, but Tiny Champions and Nancy's Hustle are our most consistent customers. Make a reservation and be sure to eat your vegetables.
Birds Love Harvest Green
Birds love Harvest Green as much as our residents do. Back in February, we installed Purple Martin houses. Not long after, these beautiful birds began moving in. By May, they were nesting with their babies. This month, the fledglings took flight. You can see them flitting in and around the houses. The best way to see them is during our monthly Meet the Farm Tours. Upcoming tours will take place from 10 to 10: 30 a.m. Saturdays, Aug. 26 and Sept. 30. Reserve your spot today.
In Season Now
July saw zucchini, eggplant, okra, Tromboncino squash, Armenian cucumbers, long beans, assorted peppers, bitter melons, Korean melons, Malabar spinach, sweet potato greens, butternuts and herbs for sale at the famers market. Stop by in August to see what's new.
Farm Life is Calling Your Name
If farm life is calling your name, stop by Harvest Green to learn more. Residents have opportunities to help out, join our Farm Club and have fresh produce delivered to their doors via our Veggie Share program.