July
2023
18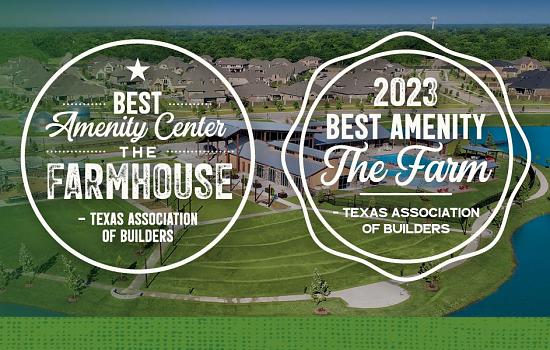 Harvest Green Amenities Best in State
Our residents know our amenities are the best. Now all of Texas knows! Our community took home two Texas Association of Builders Star Awards — one for Best Amenity and one for Best Amenity Center.
Awards were handed out on the final day of the Sunbelt Builders Show™, recognizing the outstanding work of developers, builders, remodelers, architects, designers, sales professionals, marketing professionals and construction professionals across Texas and surrounding areas.
The heart of our community — the beautiful 12-acre Village Farm — took home the award for Best Amenity. The judges were impressed by both the scope of the farm and the care taken to engage residents at a deeper level. Among the many things they loved were our events, including harvesting days, goat yoga, cooking demonstrations and more. Our Farm Club — which allows residents to grow their own produce with the help of our Farm Educators — the weekly farmers market, our Veggie Share program and cute farm animals also won the judges' hearts.
The Farmhouse won for Best Amenity Center. The soul of our community satisfies our residents need to connect with friends and family in an aesthetically pleasing environment. The judges were impressed by the modern vibe accented with farm fashions such as metal roofs, soaring and tiered barn-style rooflines, interior beamed ceilings and stained concrete floors. Our fitness center — with an exercise room and state-of the-art equipment — also made an impression.
We would like the thank the judges for recognizing our unique amenities. If you're ready to see what award-winning amenities look like, visit us today. We'd be happy to show you around.