June
2023
28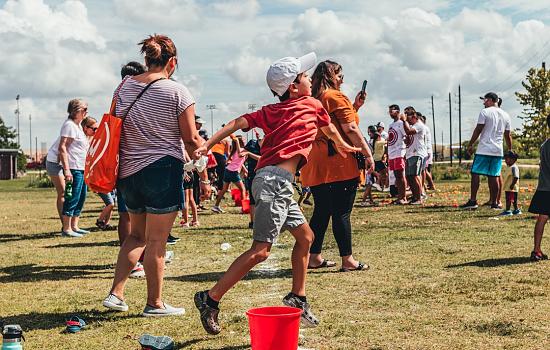 June Farm Highlights
We love summer on the Village Farm. Sure, it's a tad warm, but our tomatoes and peppers are ripe and ready to be turned into salsa — and who doesn't love salsa? Our tomatoes are also the stars of our annual La Tomatina Padre celebration! Here are the June highlights.
New Farmers Market Hours
The farmers market has switched to summer hours. From June through September, the market will be open from 9 a.m. to noon. You'll still find amazing produce, meats and artisanal goods — just an hour later. Enjoy sleeping in!
We Love Throwing Tomatoes Around
What does the Village Farm have in common with towns in Spain? La Tomatina Padre. Our annual tomato-themed event invites kids to pelt their dads (or parental figures) with overripe tomatoes. It was fun for everyone. The dads even got to wash off in the dunk tank! Kids got to cool off on the inflatable water slide (we think that was more fun). Caprese skewers from farm neighbor Messina Hof and strawberry lemonade from Kung Fu Tea were tasty additions to this year's event. Sadly, this is a resident-only event, which means you are just going to have to move here in time for next year's celebration!
Don't Miss Our "Meet the Farm' Tour"
Our farmers market isn't the only event that has switched to summer hours. Our monthly farm tours will take place from 10 to 10: 30 a.m. now. Spend a cool morning learning what goes into community farming as well as what's in season and how we plan for year-round growing. You can see our animals, and there are free samples involved. Upcoming tours will take place July 29, Aug. 26 and Sept. 30. Reserve your spot today.
Let Us Tell You About Our Peppers
You know about our tomatoes, now it's time to introduce our hot peppers. We grow a lot of them. Now starring at the farmers market are Aji Rico, Habanero, Pumpkin Spice Jalapeño, Jalafuego and Ancho Poblano varieties. From mild to eye-watering, the peppers come in a range of heat levels. Talk to one of our Farm Educators about which peppers are right for your culinary needs.
In Season Now
In addition to peppers, you will probably find long beans, okra, eggplant, tomatoes, zucchini, Tromboncino squash, cucumbers, leeks, onion, kale, assorted herbs, edible flowers and flower bouquets available at the market. There may be a few surprises, as well. In June, there were limited quantities of butternut squash and ground cherries available, so it's worth checking every week. Not sure what to do with our produce? Check out the farm blog for tips and recipes.
Put Down Some Roots
We love sharing news about our Village Farm, but if you really want to experience life here, put down roots in Harvest Green. In addition to the Village Farm, we have tons of amenities to enjoy, including the Farmhouseamenity complex, amazing fitness center, parks and playgrounds, edible landscaping and more! Stop by and tour our model homes today.