April
2023
27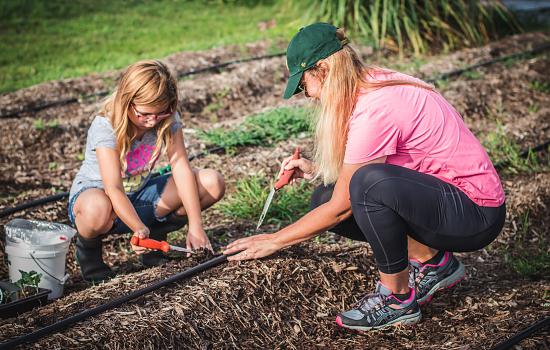 April Farm Highlights
April was a great month on the Village Farm. We celebrated Earth Day, harvested patty pan squashes and zucchini and revved up for spring and summer programs the public can join us for. Here are the highlights
Earth Day Farmers Market a Success
What better place to spend Earth Day than our farmers market? The beautiful spring day began with volunteers helping Farm Educators to clean up around the creek. At our veggie tasting tent, everyone was invited to sample farm fresh rainbow carrots, kohlrabi and the first cherry tomatoes of the season. Adults and children were able to plant seeds in our newspaper pots.
Earth Day isn't the only event we celebrate at the market. Join us May 13 for an opportunity to create a one-of-a-kind bouquet for Mother's Day. We provide fresh flowers and foliage harvested on the farm; you provide imagination. The cost is $20 per bouquet.
Want to try our tomatoes? We're hosting a free Tomato Tasting & Cooking Demo on May 20. Stop by our tent from 10 a.m. to noon for a taste. We'll also be cooking up some tasty dishes with tomatoes and other in-season vegetables.
More Great Reasons to Visit the Farm
Get a taste of the Harvest Green lifestyle at these upcoming public events.
World Migratory Bird Day
If you love birds, you're going to want to join Farmer Nathan for a tour of the Village farm trail, 8 to 9 a.m. Saturday, May 13, for World Migratory Bird Day. Can't make it? We also offer a self-guided tour. Just follow our infographic bird markers located throughout the farm.
Wood-Fired Pizza Night
We're firing up the wood-fired pizza oven, 6 to 8 p.m. Friday, May 19, and layering on the farm fresh veggies for a relaxing and delicious evening of food and fun. Meet Harvest Green residents and play yard games. The cost is $20 per family.
Flavors of the Farm: Summertime Edition
Join farmer and food enthusiast Nick DeBrock from 6 to 7 p.m. Sunday, June 11, as he demonstrates how to cook up our summer vegetables. Sample dishes made with tomatoes, cucumbers, summer squash and more while enjoying a relaxing evening. The cost is $10 per person.
Tuesday Tomato Talk
Thinking of growing your own tomatoes? Join us from 6 to 7 p.m. Tuesday, June 13, for an informative session covering tomato biology, care and maintenance of tomato plants and some of the varietals growing at Village Farm — taste testing included! The cost is $5 per person.
Don't miss the opportunity to learn what year-round farming looks like. During the free tour, you'll learn what veggies are in season, visit our goats and chickens and taste the fruits of our labor. Upcoming tours are 1:30 to 2 p.m. Sundays, May 28 and June 25.
Share Our Vegetables
Our Vegetable Share Program has kicked off! Up until now, the program has only been available to our residents, but we have begun offering a limited number of public shares. Shares include four to six seasonal, organic vegetables for $26. Shares are customizable based on what's in season. You can also add on a few extras. If you are lucky enough to snag one of our public shares, you'll be able to pick it up at the Farmhouseon Tuesdays. To learn more and sign up for your own share, head here.
Spring Planting Update
We recently began harvesting patty pan squashes and zucchini — some of which will be available at the farmers market. The tomato plants are covered in young fruits. They are still small and green, but it won't be long until our first harvest. Green beans and peppers have begun to flower. We've just started to see the first baby cucumbers on the vine.
Visit Us Today
If you're planning a visit to the Village Farm, don't forget to visit the rest of our amenities! Tour the Farmhouse amenity complex, see our parks and walk our trails. Then learn how you can make your home with us.