March
2023
30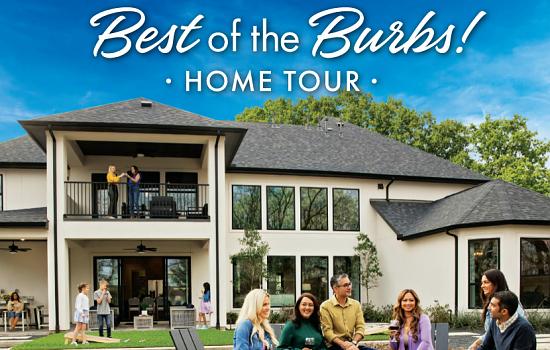 The Best of the 'Burbs Home Tour is Back!
Johnson Development is hosting what just might be Houston's largest home tour this April — the Best of the 'Burbs Home Tour.
Twelve communities, more than 130 gorgeous and professionally decorated model homes and nearly 500 available homes will be open daily 10 a.m. to 6 p.m. Mondays through Saturdays and noon to 6 p.m. Sundays during the tour. And there's no fee for the tour — just pick your community, pick your time, maybe pick up a fellow design diva and head over to see the latest trends in home design.
Here in Harvest Green, our builders are just now opening their new model homes in our new section, with Perry, Lennar, Newmark, Westin, Highland and David Weekley Homes welcoming visitors by appointment. Several other model homes are under construction — watch for news during the month of more openings.
And while builders are working on their models, they are also working on inventory homes. Many are now preselling, offering nearly 100 floor plans priced from the $390,000s. With so much variety, you're sure to find the home that checks all the boxes on your must-have list. Builders have a dozen homes under construction now, with several available this summer. You can see the full list here.
And while you're exploring our available homes, take some time to check out what makes living in Harvest Green so special — there's a lot "growing" on! Our 12-acre Village Farm hosts a farmers market each Saturday from 9 a.m. to 1 p.m. There's always something going on for budding farmers — this March they were at the farm for a Spring Break Nature Excursion that included harvesting their own herbs, lettuce and carrots for a farm-to-table lunch. Farm tours and bird-watching expeditions are available for all ages.
But the Village Farm isn't our only amenity at Harvest Green, we have playgrounds, tennis and volleyball courts, a fitness center, dog park, lake and dock, twenty miles of trails and a pool with a nearby splash pad. Keeping residents connected is Lifestyle Director Nicole Hayes who maintains a busy calendar of activities for all residents.
Spend time online getting to know Harvest Green and then come out to the Farmhouse for a tour. Afterward, head over to Messina Hof Winery & Kitchen — located in the community — to enjoy a glass of wine and meal while you discuss all you've learned about Harvest Green!