December
2022
29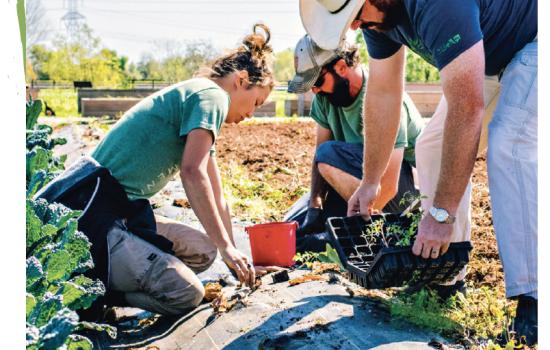 Farm Educators Bring Good Eats to Neill Elementary
Neill Elementary students have been enjoying the fruits of our Farm Educators' labor munching on the radishes, kale and carrots grown on the Village Farm.
Farm Educators have been providing fresh organic produce to the Harvest of the Month program at our onsite school. The state-wide initiative is designed to get kids to eat more produce by spotlighting a different vegetable or fruit each month.
"We began cooperating with Neill Elementary and Commonwealth Elementary to provide samples of fresh vegetables for Harvest of the Month beginning in October," said Farmer Bethany. "The children were able to taste radishes in October and arugula and Dino Kale in November. Due to the winter break schedule for schools, we did not provide school-wide samples for the month of December."
Bethany said that while these aren't the most glamorous vegetables grown on the farm, children have been enjoying the opportunity to taste farm fresh veggies.
"It brings us so much joy to see children stepping outside of their comfort zone to taste and even enjoy the vegetables," she said. "We have heard that sometimes it just takes one brave kiddo to take the first taste and then others will follow in suit and possibly discover a new food interest they didn't know about previously!"
Many of those same children have visited the Village Farm and told Farm Educators that they have tried our delicious veggies.
"This is the true purpose and beauty of a community-based farm, and we are so thankful to participate in the lives of local families through little moments like Harvest of the Month," Bethany said.
In December, Farm Educators participated in Neill's Career Day sharing the work they do as professional farmers. Farmers Bethany, Nick and Daphne discussed how they began farming, why they keep farming, and what a day in the life of a farmer looks like.
The kids asked a lot of insightful questions about the types of plants grown on the farm and how long it takes until they can be harvested. They were also excited to learn about our goats and chickens. Then they got to taste farm-fresh carrots.
"They were very enthusiastic to taste carrots harvested just for them the morning of Career Day," Bethany said. "We look forward to sharing our farming journey with children in the community through events like Career Day in the future."
Our Farm Educators will continue sharing fresh fruits and vegetables through Harvest of the Month in 2023.
"These past few months of cooperating with local elementary schools has been very rewarding for us as farmers," Bethany said. "There is an immense amount of satisfaction and joy when we are able to share the fruit of our labor with others. The young people at Neill and Commonwealth elementary schools are the future of our food system, as both consumers and agriculturalists, so it is a great pleasure to share with them the beauty of eating sustainably and locally grown food."