October
2023
16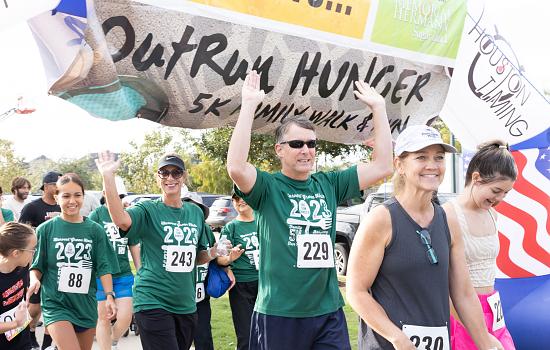 OutRun Hunger 5K Raises More Than $34,000 for Charity
The OutRun Hunger 5k Family Walk and Run hosted by Harvest Green has again exceeded the previous year's total as participants ran and walked to assist for local families in need.
More than 480 runners and walkers, as well as 43 sponsors, raised more than $34,000 for East Fort Bend Human Needs Ministry a non-profit organization offering assistance to families and individuals during times of temporary financial crisis.
"Every year just gets better and better," said Stacey Williams, development director for East Fort Bend Human Needs Ministry. "Last year, the run raised $30,000. To exceed it this year is a testament to generosity of the Fort Bend community. We thank everyone for their support and sponsorship."
Memorial Hermann Sugar Land Hospital was the title sponsor for the event.
Approximately $131,500 has been raised by the run since its launch in 2018. The money will be used by East Fort Bend Human Needs Ministry to provide food and financial assistance to children, families and seniors. In 2022, the organization's food pantry served 7,634 families.
The race ended with an after-party at the finish line for participants and their cheering squads. The top three male and female finishers received awards. Justin Arnosky took first place for the men, with Ethan Wasserman and Julian Perrin finishing second and third, respectively. The female top finisher was Abigail Boyd. Angela Tse placed second and Bethany Busa finished third. Kids received completion ribbons for participation in a separate Kids Run.