June
2023
21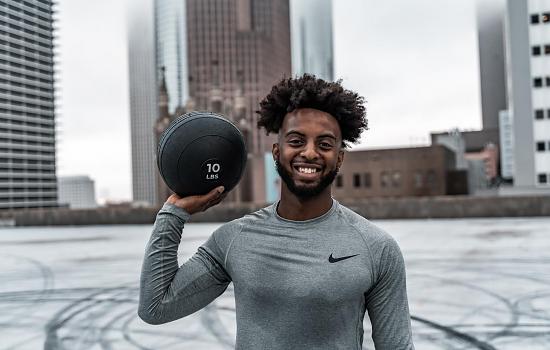 Meet New Fitness Director Xavier Donaldson
Xavier Donaldson, our new Director of Fitness, wants to change people's ideas about exercise from a "have to" into a "want to."
He joined us in June with a degree in Kinesiology, experience as a personal trainer and the desire to support others on their wellness journey.
"I have found that working in this profession resonates deeply with my innate calling to serve others," Xavier said. "The opportunity to engage with and support individuals on their fitness journeys brings me immense fulfillment, reinforcing my belief that this is the path I am meant to follow."
Xavier's passion for fitness started in his hometown of South Bend, Ind., where he played football and basketball. He moved to Houston 16 years ago, working as a fitness instructor for the YMCA and as a personal trainer. He believes community is an important component to fitness.
"Fostering relationships and building community is extremely important to reaching your fitness goals," he said. "Not only does your fitness community serve as a source of accountability but they also influence your social wellness and lend you encouragement and support."
His goal at Harvest Green is to offer diverse and engaging activities where fitness becomes an enjoyable experience for everyone in the community, ensuring that all individuals feel welcome and empowered to participate.\
"In your fitness journey, it's crucial to grant yourself the gift of grace and refrain from comparing your progress to others," he said. "Each individual is unique, and your focus should be on your personal growth."
Xavier believes Harvest Green's approach to health and wellness is beneficial to residents.
"Working in fitness, I have a special appreciation for total body wellness, which includes eating healthy food," he said. "Residents having this resource and access to a healthy home-grown garden can have a tremendous positive impact on their health and wellness."
He intends to be with our residents every step of the way, motivating them and celebrating their success.
"I take great pleasure in keeping people motivated by celebrating the small goals, Xavier said. "It's the little things that truly make a big difference in our lives, and they deserve to be celebrated wholeheartedly."