June
2023
16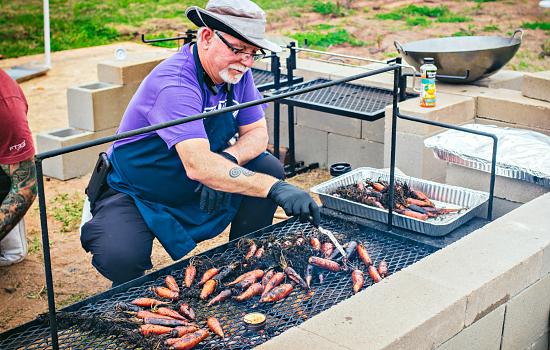 Tips for Hosting a Summer Barbecue
Harvest Green residents have been hard at work getting their homes and backyards ready for summer barbecue season. In addition to harvesting delicious, organic produce through our Veggie Share program or at our weekly farmer's market, they have been sprucing up their backyards and cleaning their grills. Here are some of their tips for hosting a spectacular summer barbecue of your own.
Send Out the Invites
You don't need to send out formal invitations. Text or call your favorite peeps and let them know the party is at your place. Be sure to only invite people you enjoy spending time with.
Create an Inviting Party Place
Take a good, hard look at your backyard. Is it clean? Inviting? Sweep up any debris, fix your patio furniture and mow the lawn. Do you have enough seating? Many Harvest Green residents opted for expanded covered patios, so they have plenty of room to wine and dine guests. Add colorful outdoor pillows, a rug and plenty of pretty plants in containers for extra pizazz.
Ready Your Grill
The centerpiece of your barbecue is the grill. Make sure it's clean and you have the appropriate tools. If your grill runs on propane, make sure the tank is full. Have a second tank on hand in case something goes wrong. If you use charcoal, buy the best to add great flavor to your masterpiece. Some Harvest Green residents have built-in grills and outdoor refrigerators to keep cold food cold, sinks to rinse dirty equipment and plenty of counterspace.
Decide on the Menu
Hot dogs and hamburgers are traditional summer food. You can jazz things up with a fun hot dog bar. You can do the same with burgers. Surf-and-turf skewers are easy to make and eat. Don't forget vegetarian options for guest who don't eat meat. Set up a bar cart and let guests help themselves. While it can be tempting to have everyone sitting at the table for the meal, consider making it an all-day buffet. Ask guests to bring a side dish to share. Your job is to keep the main course coming.
Keep It Cool
Keep drinks cool with a large ice chest. Pass out battery operated fans. If you have misters, turn them on. Don't forget to stock up on popsicles for the kids.
Fun and Games
If you have a pool, you have a built-in activity. If you don't, set up game stations in your backyard. String a net for badminton or pickleball. Corn hole, a bean bag toss or horseshoes are great if you don't have a lot of space. Twister or a scavenger hunt are fun for kids.
Keep the Lights On
We get it, the days are getting longer. Still, if you don't want the party to stop when the sun goes down, be sure to string some lights. If you have a fire pit, light it up so you can finish the party off with a marshmallow roast or ghost stories.
Visit Harvest Green for Inspiration
If you need a little backyard inspiration, visit Harvest Green and tour our new model homes today. Many of our builders have crafted beautiful outdoor living spaces that would be perfect for your next neighborhood barbecue.