September
2022
22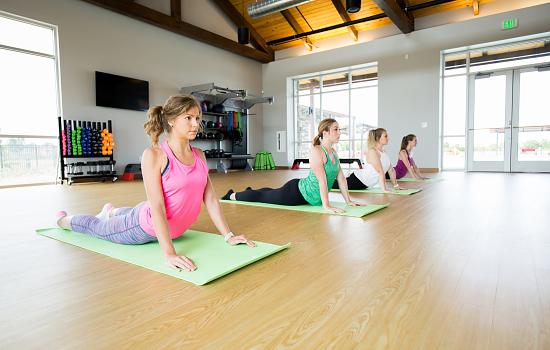 Our Fitness Program Offers Something for Everybody
When it comes to staying fit, every body is different. That's why Fitness Director Minouette Richards and her team of instructors and personal trainers are constantly dreaming up new ways to help residents meet their health and wellness goals.
Since Minouette joined Harvest Green in March, more residents than ever have been hitting the gym, signing up for classes and taking advantage of our personal training program. She has organized many events designed to encourage healthy habits, including a deadhang challenge, a healthy home eating challenge, an accountability challenge and an upcoming volleyball tournament.
"I strive to reach the community through not just our fitness classes or training, but through community challenges and events that everyone can participate in," Minouette said. "The entire community is always invited to participate and take advantage of more than just the training aspect inside the gym walls. With each program, challenge and event, we reach further into the community to impact more and more residents personally and uniquely in a positive way."
Minouette attributes the growing popularity of the fitness program to her team.
"Our program is not just me," she said. "It's made up of a team of amazing people who are experienced and knowledgeable about what they do. My absolute favorite thing is receiving positive feedback and compliments about our instructors. It gives me pride in our team but also pride in the health and wellness program we are curating for this community, because that is who we do it for."
The team includes three instructors and two personal trainers. It is their job to make sure staying fit is also fun.
"Our Zumba class is super high energy and fun," Minouette said. "Our yoga class is the perfect grounding and mobility session, and our strength classes always offer a challenge — no matter your fitness level."
New this year is BollyX, a 45-minute Bollywood dance fitness class that combines exhilarating choreography and a calorie-burning workout with upbeat music from around the world. Another new class is an early (and we mean early!) morning Boot Camp class for residents who want to get a workout in before going to work.
"Being busy myself, I know how important it is to have a consistent schedule that fits your routine," Minouette said. "My goal for this class is to service our community members who work busy schedules, as they deserve the opportunities to progress their health and fitness, as well."
Minouette has also seen an uptick in the number of residents signing up for one-on-one workouts with a personal trainer. All residents have access to a free 30-minute consultation with a trainer to create a strength, nutrition, goal setting and cardio program that best meets their needs.
"Through the consultation, our trainer will guide each person toward the best options in terms of training," she said. "That may be personal training or could be recommending group fitness classes or helping them to create a program of their own."
Personalized training programs are customized to meet each person's individual goals, needs, schedule and budget.
"Many clients have seen great progress in losing inches, dropping weight and building muscle," she said. "Not just the physical, either — changes in their mindset and a more positive outlook and confidence in themselves is also an amazing by-product and benefit we continue to see."
Adults aren't the only beneficiaries of Minouette's creativity. Residents as young as 12 years old can participate in group fitness classes and work with a personal trainer. She is planning more programs to fit their unique needs.
"I have exciting plans that I can't wait to bring to fruition for the youth within our community," she said. "I will be bringing programs targeted at building a strength and sports foundation for kids with the goal of providing structured training for lifelong healthy habits, as well as improving athletic skills for those aiming to compete in sports."
Minouette is always looking for ways to team up with Harvest Green Farm Educators to improve resident health and well-being including, running a healthy home eating challenge and offering a Farm Fit Boot Camp at the Harvest Green Farmers Market every other third Saturday of the month.
"I love this program so much," she said. "I believe that everyone is an athlete! I can create an atmosphere where everyone can train like an athlete without judgment, with challenging drills, and have fun while doing so. I have a great time hyping up the group and seeing how hard they work!"
Residents love our fitness program and Minouette loves being part of a community that values wellness.
"At Harvest Green, I can be present while leading my community in their wellness journey," she said. "I am able to be present for all things big and small. Whether that's having a conversation at the front desk with a resident stopping in for a workout or aiding in creating and leading a 5k event for the community. Through it all I can continue to build positive relationships within our community, providing me the feedback and tools to create a health and wellness program that has something for everyone."