July
2022
12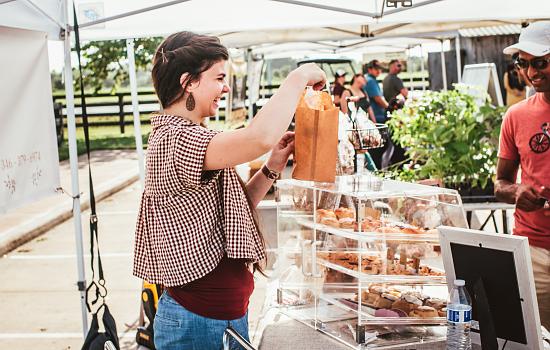 Six Reasons to Shop Farmers Markets
Produce picked at the peak of freshness isn't at the grocery store. It's at your local farmer's market. How do we know? We host one from 8 a.m. to noon every first and third Saturday of the month at our Village Farm.
Farmers markets are good for you, the economy and the environment. Need more reasons to support your local one? We've got six of them.
Connect with Your Food
Do you know who grows your food? Most of us don't. Farmers markets connect us directly with farmers and the fruits of their labor. They are passionate people who love talking about their farms, growing practices and the best way to prepare the items you purchase. Meat sellers can tell you exactly what goes into their animals, so you know what goes into you.
Taste the Season
Fruits and vegetables grown out of season aren't very good for you. Food producers use ripening agents such as chemicals, gases and heat processes to ensure produce is available year-round. These foods aren't as nutritious. A study found that organic broccoli, for example, had more Vitamin C than broccoli found in supermarkets. They aren't as tasty, either. Compare a grocery store tomato to one grown on our Village Farm — you'll immediately taste the difference. That's because grocery store tomatoes are picked early and then shipped in refrigerated trucks — both of which affect flavor. (And if you're storing your tomatoes in the fridge — take them out now!)
Protect the Environment
Shipping food from far off farms contributes to pollution. Produce, meats, breads and more may have been trucked up to 1,500 miles to get to your grocery store. Conventional agriculture relies on pesticides and other chemicals that pollute the land and water tables. Food found in farmers markets is transported shorter distances and many farmers forgo pesticides and chemicals.
Support Humane Animal Treatment
Antibiotics and chemicals in our meat and eggs is a problem. Meat and eggs sold at farmers markets come from humanely treated animals. That means cows grazing on real grass and chickens that are free-range. Animals are not pumped full of antibiotics or other chemicals. That's better for your family.
Support the Local Economy
The Institute of Agriculture and Natural Resources reports that farmers who sell at farmers market receive 80 cents per dollar. If they sell to supermarkets and corporations, they only get 10 cents. The more money farmers make, the more money stays in the local economy. Food sold in farmers markets is often cheaper, saving you money that you can use to purchase local goods and services.
Connect With Community
A trip to the farmers market is much more fun than a trip to the grocery store. There's live music and sunlight instead of elevator music and artificial light. You're likely to see friends and neighbors. Many markets have food trucks and places to picnic. If you shop frequently, farmers and food producers get to know you and may point out the freshest of their fresh items.