July
2021
19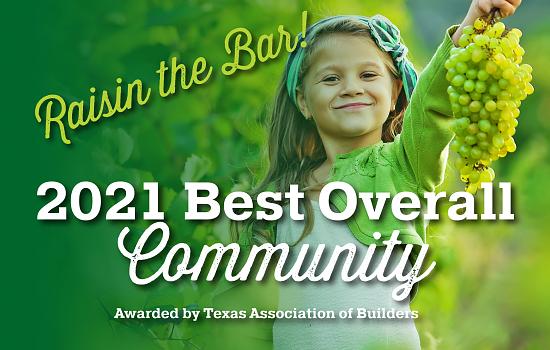 Harvest Green Named Best in Texas
We're no stranger to awards, but our latest accolade is a very big "dill." The Texas Association of Builders (TAB) just named us the "Best Overall Community" in Texas (more than 600 acres) during the recent Texas Star Awards.
The annual competition highlights the outstanding work of developers, builders, remodelers, architects, designers, sales professionals, marketing professionals and construction professionals across Texas and surrounding areas.
This year, TAB received a record-breaking 720 entries within 162 categories. The winners were announced on July 15, the last day of the Sunbelt Builders Show™.
Harvest Green stood out from the crowd due to unique amenities that encourage a happy, healthy lifestyle for our residents, such as our 12-acre Village Farm, Farmhouse recreation complex, miles of trails and numerous events coordinated by our fabulous Director of Fun. We're pretty sure the presence of the new Messina Hof Harvest Green Winery & Kitchen in our community didn't hurt either.
In addition to winning the award, Harvest Green was a finalist in the Best Community Clubhouse, Best Community Amenity and Best Website categories.
We're pretty sure once news of this award gets out, we' will have even more families flocking to put down roots in our "farmtastic" community. The good news is, we will soon have even more room for them. We're adding 630 acres to Harvest Green. That's enough room for approximately 1,400 new homes as well as multiple parks, lots of trails, open green spaces and a second pool.
Visit us to see why we are the best community in Texas and make your move today.